Cutout Guitars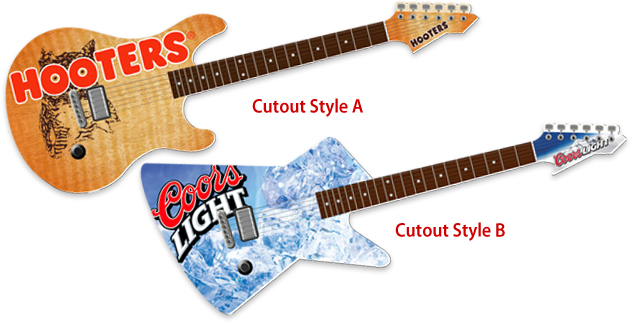 Cutout Guitars are full size replicas of our original guitar body styles with custom artwork printed directly on the surface. Extremely cool and affordable, these awesome reproductions are constructed of highly rigid one-half inch ULTRA BOARD and include genuine metal strap buttons for air guitar performance or mounting on just about anything.
ULTRA BOARD is a lightweight structural panel consisting of a rigid polystyrene foam core faced on both sides by a smooth, moisture resistant sheet.

ULTRA BOARD is a thermoplastic material, which means it can be melted and reused into the manufacture of new extruded polystyrene products. Once the end of life of the original application of ULTRABOARD is reached, the material can be reused.
Specifications:

Four Color Printing
Full Size 40" x 14"
Light Weight
Metal Strap Buttons
8 Piece Minimum Quantity
No Set Up Fee